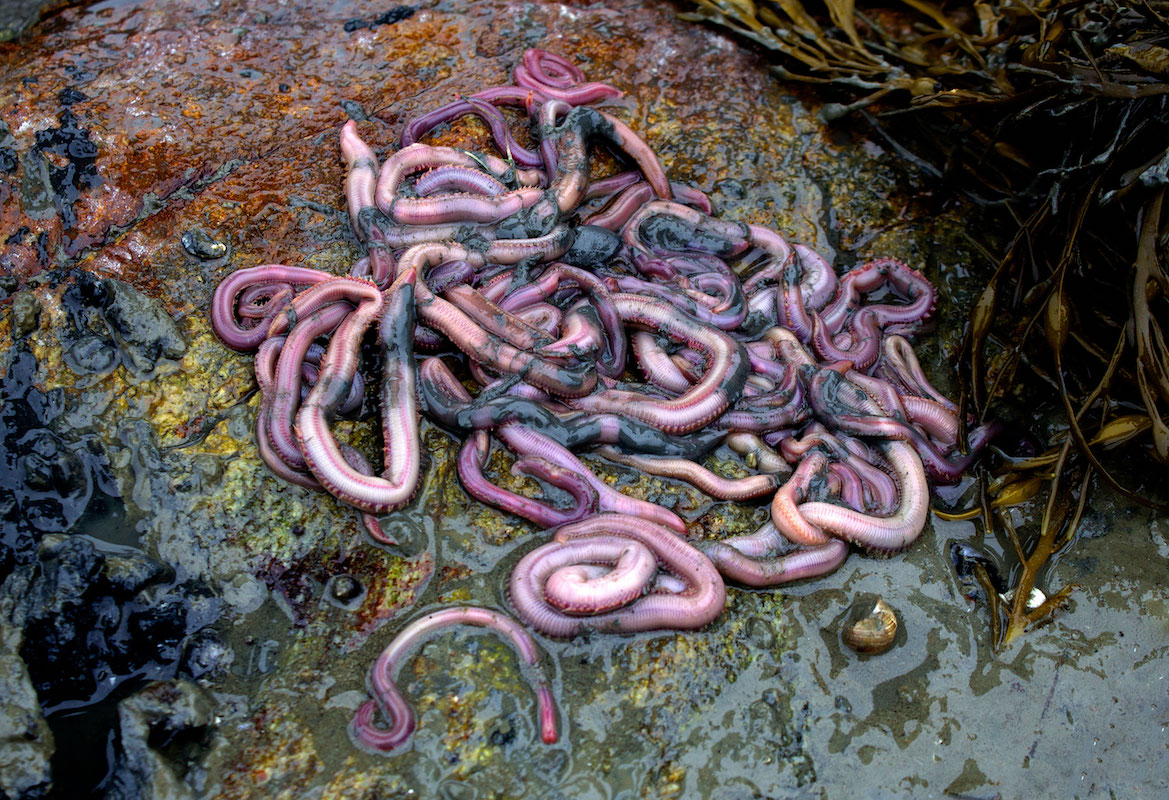 Coastal Conversations Radio Program: Marine Worms
Coastal Conversations show: April 26, 2019
WERU 89.9 in Blue Hill and 99.9 in Bangor
Host: Natalie Springuel, Maine Sea Grant
Along Maine's coastal mudflats, you might have noticed commercial worm harvesters digging for bloodworms and sandworms. The segmented and wriggly critters are destined to be used as fishing bait by recreational anglers near and far. You may have never seen either of these worm species — they are elusive — but together they make up the 5th most valuable fishery in the state.
How do diggers find these worms and how do they harvest them from the mud? How is that process changing? And what can this industry tell us about how the environment is shifting along the coast?
This is Natalie Springuel, from the University of Maine Sea Grant, host of Coastal Conversations. On our next program, we'll explore Maine's marine worm fishery, including how harvesters locate and harvest worms, how their access to mudflats is shifting, and the changes they're seeing in our coastal waters and communities.
Tune in Friday morning, April 26, from 10 to 11 AM, when this month's Coastal Conversation is all about the ecology and economy of Maine's marine worms.
Only on WERU community radio, 89.9 FM in Blue Hill and 99.9 in Bangor, and online at WERU.org.
Guests
Kaitlyn Clark, Undergraduate Researcher at College of the Atlantic
Donald Bayrd, Bloodworm Digger and Dealer from Milbridge, ME
Fred B. Johnson II, Bloodworm Digger from Steuben, ME
Johnathan C. Renwick, Bloodworm Digger from Birch Harbor, ME
Derek W. Crocker Sr., Bloodworm and Sandworm Digger from Deer Isle, ME
James Arsenault, Sandworm Digger from Dresden, ME
Kenneth Webber, Sandworm Digger from Ellsworth, ME
For More Information
Independent Maine Marine Worm Harvesters Association
Maine Marine Worm Industry, Historic Video
"Working the Tides," Angler's Journal
---

Listen to the show on WERU archives
More information about Coastal Conversations Radio Program