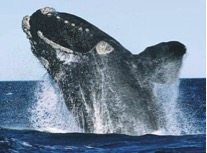 Coastal Conversations Radio Program: Whale Mortalities in the Northwest Atlantic
Coastal Conversations show: November 24, 2017
WERU 89.9 in Blue Hill and 99.9 in Bangor
Host: Natalie Springuel, Maine Sea Grant

Listen to the show on WERU archives
2017 has been an alarming year for the Endangered Right Whale in both New England and the Canadian Maritimes, with up to 16 whales found dead in Northwest Atlantic waters. For a population that hovers around 450 individuals, losing 16 right whales in a few months is a big deal.
This is Natalie Springuel, from the University of Maine Sea Grant, host of Coastal Conversations. On our next program, we are going to ask why so many whales have died this year, and what these mortalities tell us about changing habitats throughout the Gulf of Maine and the Gulf of Saint Lawrence.
Make a note to tune in Friday November 24, the day after Thanksgiving, from 10-11 am when we explore these issues with guests Dr. Sean Todd, the director of Allied Whale, College of the Atlantic's marine mammal research lab, and Zack Klyver, the lead naturalist at Bar Harbor Whale Watch.
Only on WERU community radio, 89.9 FM in Blue Hill and 99.9 in Bangor, and online at WERU.org.
Guests
Dr. Sean Todd, director of Allied Whale, College of the Atlantic's research program
Zack Klyver, lead naturalist at Bar Harbor Whale Watch and founder of Flukes International Tours
For More Information
Allied Whale
Bar Harbor Whale Watch
Adopt a Whale
2017 North Atlantic Right Whale Unusual Mortality Event, NOAA Fisheries Page
Right Whale Deaths in Gulf of St. Lawrence, Canadia DFO page
Whale Research to Highlight Impact of Climate Change
---

Listen to the show on WERU archives
More information about Coastal Conversations Radio Program