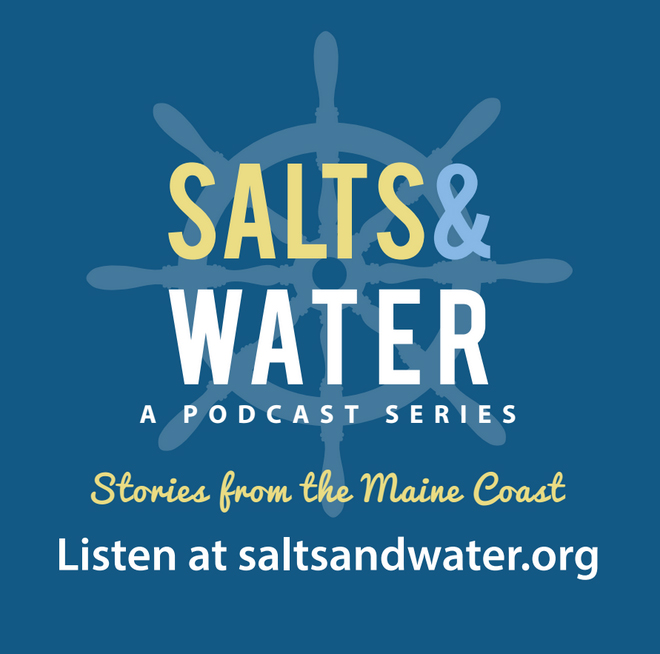 Coastal Conversations Radio Program: Salts & Water, Stories from The Maine Coast
Coastal Conversations show: September 22, 2017
WERU 89.9 in Blue Hill and 99.9 in Bangor
Host: Natalie Springuel, Maine Sea Grant

Listen to the show on WERU archives
Listen to the one minute show promo:
Stonington's women lobstermen, Portland's fishmongers, Eastport's record-breaking tides… these are some of the characters that are featured in a new podcast series called Salts and Water, Stories from the Maine Coast.
This is Natalie Springuel, from the University of Maine Sea Grant, host of Coastal Conversations and I am excited to dedicate our next show to airing some of these stories for you, our listeners.
Salts and Water is a project of Experience Maritime Maine, a network of people and organizations dedicated to celebrating the rich heritage, culture, and natural beauty of Maine's coast.
Some of you will recognize the voice of the Salts and Water narrator, Rob Ronsenthal, an award winning producer and teacher who started and then ran the Salt Institute for Documentary Studies' radio track for 11 years. Today Rob is the host for the HowSound podcast – a joint project of PRX and Transom – on radio storytelling.
So make a note to tune in Friday morning, September 22 from 10-11, when this month's Coastal Conversation features Salts & Water, Stories from the Maine coast.
Only on WERU community radio, 89.9 FM in Blue Hill and 99.9 in Bangor, and online at WERU.org.
For more information
Full podcast series
Experience Maritime Maine
---

Listen to the show on WERU archives
More information about Coastal Conversations Radio Program