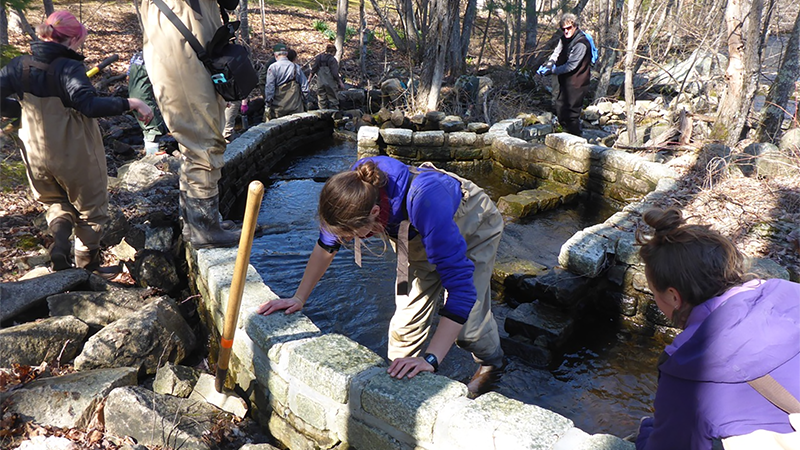 Coastal Conversations Radio Program: Alewife Restoration & Monitoring
Coastal Conversations show: June 23, 2017
WERU 89.9 in Blue Hill and 99.9 in Bangor
Host: Natalie Springuel, Maine Sea Grant

Listen to the show on WERU archives
Alewives and their close cousins the blueback herring play an important role in Maine's freshwater and ocean ecology, as food for eagles, osprey, bears, raccoon, and even cod.
Alewives need free-­flowing streams in order to make it back up from the ocean to the lakes and ponds where they spawn, but centuries of obstructions like dams have affected their populations.
In the last few years, a number of people in Downeast Maine, from commercial fishermen to volunteers, have contributed countless hours to the restoration of these fish. People are rebuilding fish ladders, replacing culverts, dismantling debris, conducting population estimates and much more to help our sea run fish come back.
This is Natalie Springuel, from the University of Maine Sea Grant, host of Coastal Conversations. On our next program, we will hear about efforts to monitor and restore alewife runs in Eastern Maine's rivers and streams.
So, make a note to tune in Friday morning, June 23, 10­-11 AM when this month's Coastal Conversation is about alewives and the people who work to protect them and their habitats. Only on WERU community radio, 89.9 FM in Blue Hill and 99.9 in Bangor, and online at WERU.org.
Guests
Brett Ciccotelli, Downeast Salmon Federation
Katie Clark, College of the Atlantic
Darryl Young, Alewife harvester
The following also appear on this show:
Bailey Bowden, Penobscot
Gary Edwards, Sullivan
Karen Wilson, University of Southern Maine
Dwayne Shaw, Downeast Salmon Federation
Other unidentified voices are heard sharing comments and questions during alewife­ related events.
For more information:
Downeast Salmon Federation
Somes‐Meynell Wildlife Sanctuary
Alewife Harvesters of Maine
Community and alewives benefit from restoration, Bangor Daily News, May 30, 2017
---

Listen to the show on WERU archives
More information about Coastal Conversations Radio Program