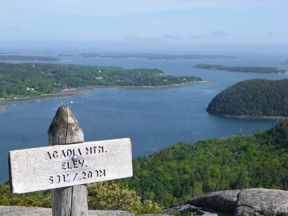 Coastal Conversations Radio Program: Leave No Trace in Acadia National Park, Stewardship for the Next 100 Years
Coastal Conversations show: June 24, 2016
WERU 89.9 in Blue Hill and 99.9 in Bangor
Host: Natalie Springuel, Maine Sea Grant

Listen to the show on WERU archives
This year, Acadia National Park turns 100, and at least 2.8 million people are expected to visit. That's a lot of people for a fragile island landscape. Acadia National Park strives to educate each and every visitor to tread lightly. But other than the basics, like sorting garbage for recyclables, what does it actually mean, to Leave No Trace in Acadia National Park?
This is Natalie Springuel, from the University of Maine Sea Grant, host of Coastal Conversations. On our next program, as Acadia prepares for the next 100 years of stewardship, we will be joined by Charlie Jacobi of Acadia National Park, Steph Whatton and Andy Mossey of the Leave No Trace Center for Outdoor Ethics, and Samantha White, the Maine State Advocate for Leave No Trace, as we explore how Maine's outdoor enthusiasts can adopt practices that help protect the places they love to visit.
As always, your insights, experience, and questions are welcome as part of the conversation. So make a note to tune in Friday morning, June 24, 10-11 AM, when this month's Coastal Conversation is Leave No Trace in Acadia National Park, Stewardship for the Next 100 Years.
Only on WERU community radio, 89.9 FM in Blue Hill and 99.9 in Bangor, and online at WERU.org.
Guests
Charlie Jacobi, Resource Specialist/Visitor Use, Acadia National Park
Steph Whatton and Andy Mossey. Subaru/Leave No Trace Traveling Trainers, Team East, Leave No Trace Center for Outdoor Ethics
Samantha White, Program Manager, Rippleffect, and Maine State Advocate for LNT
---

Listen to the show on WERU archives
More information about Coastal Conversations Radio Program