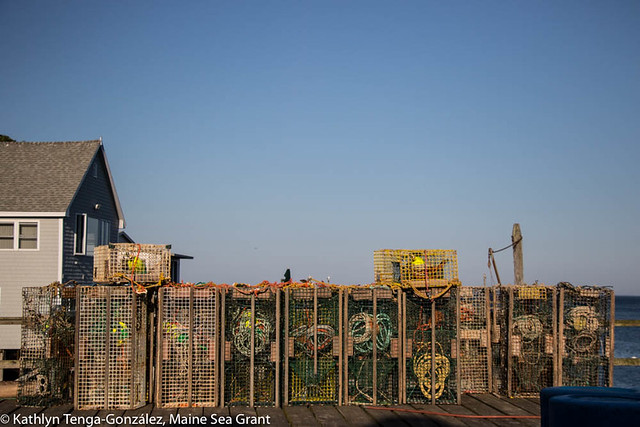 Coastal Conversations Radio Program: History, Culture, and Heritage of the Lobster Industry in Maine
Coastal Conversations show: July 24, 2015
WERU 89.9 in Blue Hill and 99.9 in Bangor
Host: Natalie Springuel, Maine Sea Grant

Listen to the show on WERU archives
From lobster wharves to lobster traps, from lobster co-ops to lobster cuisine, it is often said that the lobster industry is the heart and soul of Maine's coastal and island communities. For generations, writers, poets, artists, museum curators and others have shared stories and song about the lobster industry and about the heritage and traditions the industry has inspired.
This is Natalie Springuel, from the University of Maine Sea Grant, host of Coastal Conversations. On our next program, we will talk with Cathy Billings, author of the recently published book "The Maine Lobster Industry: A History of Culture, Conservation and Commerce." We will also hear from folks from the Cranberry Isles where a new exhibit called "Boats and Buoys: Lobstering on Little Cranberry Island" has recently opened at the Isleford Historical Museum.
As always, your insights, experience, and questions are welcome as part of the conversation. So make a note to tune in Friday morning, July 24 at 10 AM, when this month's Coastal Conversation is the History, Culture, and Heritage of the Lobster Industry in Maine. Only on WERU community radio, 89.9 FM in Blue Hill and 99.9 in Bangor, and streaming online at WERU.org.
Guests
Cathy Billings, author of The Maine Lobster Industry: A History of Culture, Conservation and Commerce; and Associate Director at the Lobster Institute
Jim Bright, retired lobsterman from Little Cranberry Island and LittleCranberryLobster.com
Rosamond Rea, project manager of the new "Boats and Buoys, Lobstering on Little Cranberry Island" exhibit at Isleford Historical Museum
For More Information
Lobster Institute
Cathy Billings – The Maine Lobster Industry on WCSH Channel 6, May 31, 2014
The Maine Lobster Industry: A History of Culture, Conservation and Commerce, by Cathy Billings, The History Press
Boats and Buoys, Lobstering on Little Cranberry Island, exhibit at Isleford Historical Museum
Fisheries Then: The Lobster (Downeast Fisheries Trail fisheries heritage series)
Maine-ly lobster: an ode to the Maine lobster industry (Bangor Daily News blog by Christina Lemieux)
---

Listen to the show on WERU archives
More information about the Coastal Conversations Radio Program