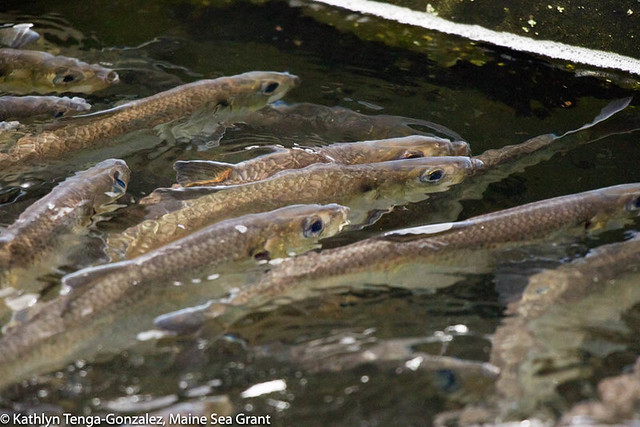 Coastal Conversations Radio Program: The Spring Running, Fish Migration in Penobscot River and Bay

Listen to the show on WERU archives
If you walk in the woods or fields right now, the signs of spring are everywhere. Less obvious but just as active: the spring run in our rivers and streams.
The Spring Running refers to the many different kinds of fish that migrate up coastal rivers from the ocean. Think salmon, smelt, alewife… In all, there are 12 species of sea run fish in Maine and all can be found in the Penobscot River and Bay.
And this is the topic of our next Coastal Conversations.
Join guest host Catherine Schmitt from the University of Maine Sea Grant and her guests Oliver Cox of the Maine Department of Marine Resources, Jeffrey Pierce of Alewife Harvesters of Maine, and Tara Lake of NOAA Fisheries, as they explore the issues surrounding sea run fish in our rivers and streams.
Tune in Friday morning, May 22 at 10 AM, when this month's Coastal Conversation is The Spring Running: Fish Migration in Penobscot River and Bay.
Only on WERU community radio, 89.9 FM in Blue Hill and 99.9 in Bangor, and streaming online at WERU.org.
Guests
Oliver Cox of the Maine Department of Marine Resources
Jeffrey Pierce of Alewife Harvesters of Maine
Tara Lake of NOAA Fisheries
More information about sea run fish
Atlantic salmon recovery framework
Maine Division of Sea-Run Fisheries & Habitat
NOAA Fisheries in Maine
Downeast Salmon Federation
---

Listen to the show on WERU archives
More information about Coastal Conversations Radio Program