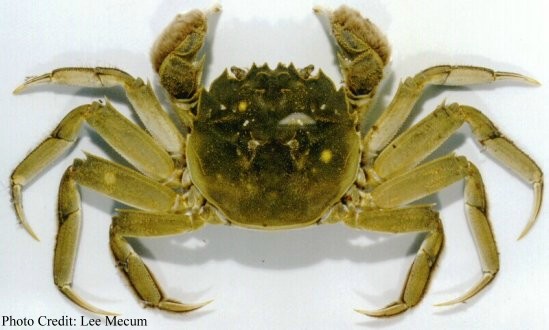 Coastal Conversations Radio Program: Green Crabs
Coastal Conversations show: February 27, 2015
WERU 89.9 in Blue Hill and 99.9 in Bangor
Host: Natalie Springuel, Maine Sea Grant

Listen to the show on WERU archives
Spend any time on the Maine shore, and you are likely to see green crabs scurry around the rocks and seaweed. Did you know green crabs are considered an invasive species?
Accidentally imported from Europe over a century ago, the green crab population has exploded in the last few years, triggering impacts on native clams, eelgrass, and salt marshes.
Why the recent explosion? What can be done to protect native clams from green crab predation? Can a new food market for green crab keep the species in check?
This is Natalie Springuel, from the University of Maine Sea Grant, host of Coastal Conversations.
On our next program, we will talk about green crabs with Bailey Bowden from the Penobscot Shellfish Conversation Committee; Brian Beal, from the University of Maine at Machias; and other green crab experts.
As always, your insights, experience, and questions about green crabs are welcome as part of the conversation.
So make a note to tune in Friday morning, February 27, 10-11 AM, when this month's Coastal Conversation is about: Green Crabs, invasion, impact, and opportunities.
Only on WERU community radio, 89.9 FM in Blue Hill and 99.9 in Bangor, and online at WERU.org.
Guests
Brian Beal, University of Maine at Machias and Downeast Institute for Applied Marine Research and Education, Beals, ME
Bailey Bowden, Penobscot Shellfish Conservation Committee, Penobscot, ME
Hannah Annis, Area Biologist, Maine Department of Marine Resources
More information about Green Crabs
Maine Green Crab Summit
Maine Department of Marine Resources information about Green Crabs in Maine
---

Listen to the show on WERU archives
More information about Coastal Conversations Radio Program