Penobscot River Watershed Education Program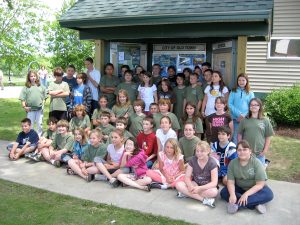 Celebrating and Strengthening Community Connections to the River that Sustains Us
Maine Sea Grant worked with faculty and fifth-grade students at Old Town Elementary School (OTES) and staff from the University of Maine Senator George J. Mitchell Center and the Penobscot River Restoration Trust to develop and pilot a multidisciplinary education program on the Penobscot River Watershed. The program received funding through the USGS-Maine Water Resources Research Institute Grants Program, and  engaged students in watershed and river restoration science, sea-run fish ecology, and cultural studies through five classroom and field-based curriculum units. As a final project, the students designed three educational posters about the Penobscot River watershed for two waterfront kiosks constructed by the City of Old Town. Maine Sea Grant and the program partners assisted the students with the poster design and production, and the students presented their posters to Old Town City Council and community members and their families at a public opening ceremony in June 2008. To view or download copies of the kiosk posters, please click the titles below:
Penobscot River Watershed Poster
Dam Removal and River Restoration Poster
Penobscot River History Poster
Curriculum available online!
Maine Sea Grant and the Gulf of Maine Research Institute used the model developed by the Penobscot River Watershed Education Program to develop a multidisciplinary watershed education curriculum. The Community Connections to a Maine Watershed unit is based on the work with students and teachers in Old Town, Maine.
For more information about this program, please contact Beth Bisson.